How to Search FEC.gov for Passive Candidates
Whenever I am working on a search, I try to identify passive candidates by using unusual sources of information. In particular, when sourcing for candidates, I've come to appreciate government databases that I first used as a journalist.
That's because LinkedIn does not give executive recruiters and candidate sourcers a competitive advantage. No doubt, it is a must-have recruiting resource for candidate sourcing. It is filled with an endless supply of low-hanging fruit. Yet every passive candidate that you find on LinkedIn is discoverable by your competitors.
When you turn to other sources besides LinkedIn, you are setting a strategy to boldly go where your competitors do not.
Become a Sourcing Contrarian
When you search other sources looking for passive candidates, you find amazing
candidates who are not on LinkedIn
. You will also find candidates who are on LinkedIn, but they're not readily discoverable by you or your competitors because their profiles are so minimalistic or out-of-date. That's why it pays to become a candidate sourcing contrarian. Instead of looking for passive candidates where everyone else is looking, try something else.
In other words, when you search outside LinkedIn, you are setting a strategy to uncover star executive talent that your competitors have not yet discovered.
Search the Deep Web for Passive Candidates
Conducting Boolean searches to search the Internet is also a useful technique. But again you'll be going head-to-head with any competitor that has built out their candidate sourcing function. In addition, Internet searches only take you so far.  Search engines can only crawl websites and return information that is discoverable on those sites.
In other words, the information that search engines return has to be there to begin with. So it is not too surprising that you'll find little about star executives and technologists at highly secretive corporations that include Apple. Secretive companies intentionally keep some of their best talent under wraps. You won't find them mentioned in articles, on corporate websites, or as speakers at conferences. The best-of-the best-talent at secretive companies, your ideal passive candidates, are encouraged to stay on the down-low.
There are other reasons you will not find the best-of-the-best with simple web searches.
Sometimes a senior executive claims credit for innovations created by his underlings.
Sometimes a gifted executive or technologist doesn't have time to step into the limelight by giving speeches at conferences.
Sometimes the CEO serves as the primary spokesman for the company, leaving brilliant talent in the shadows.
All of the above possibilities can cause outstanding candidates to remain off-radar unless you do your candidate sourcing off the beaten path.
source passive candidates on FEC.gov
One unusual place to source for candidates is the Federal Election Commission database. In 1971, Congress created the FEC to administer and enforce the Federal Election Campaign Act, which governs campaign finance. The independent regulatory agency discloses finance information, enforces contribution limits and prohibitions, and oversees the public funding of Presidential elections. Whenever an individual makes a federal campaign contribution, the SEC records the event, the FEC database captures the name of the person making the contribution, the title, and employer name.
Let me repeat:
The FEC captures Name, Title, and Company
The FEC captures that information for every person who donates to a federal election.
For candidate sourcers, FEC.gov serves up a perpetually refreshing, massive database of potential passive candidates.
How to search FEC.gov for your next hire
So let's take a trip to the FEC.gov website:
Type the web address into your Internet browser: www.fec.gov
Click on the "Campaign Finance Data"
Click on "Look up contributions from specific individuals"

On the Individual Contributors page:
On the left sidebar, click on the plus (+) sign to open Contributor Details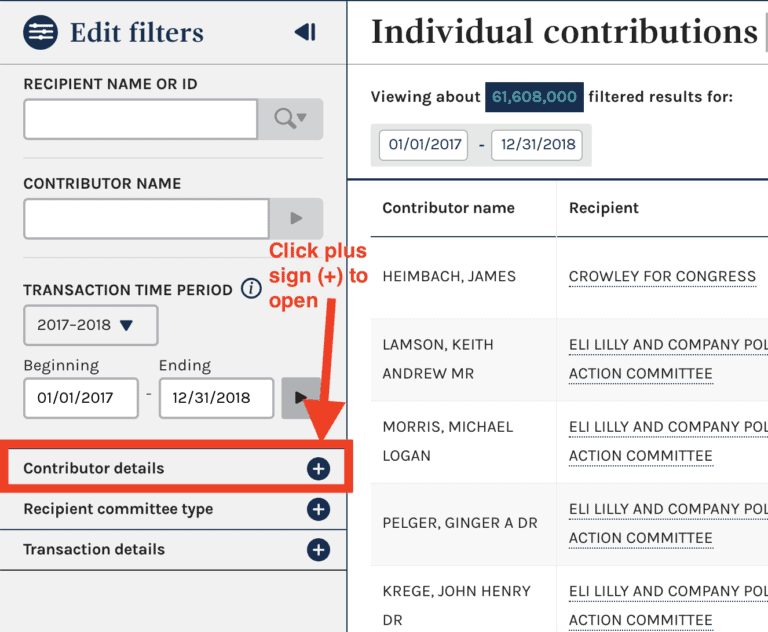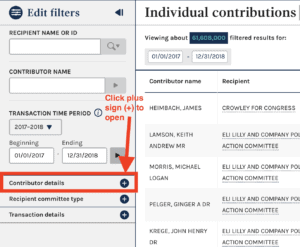 In the Contributor Details section:
Enter the name of the company you want to source for candidates in "Employer".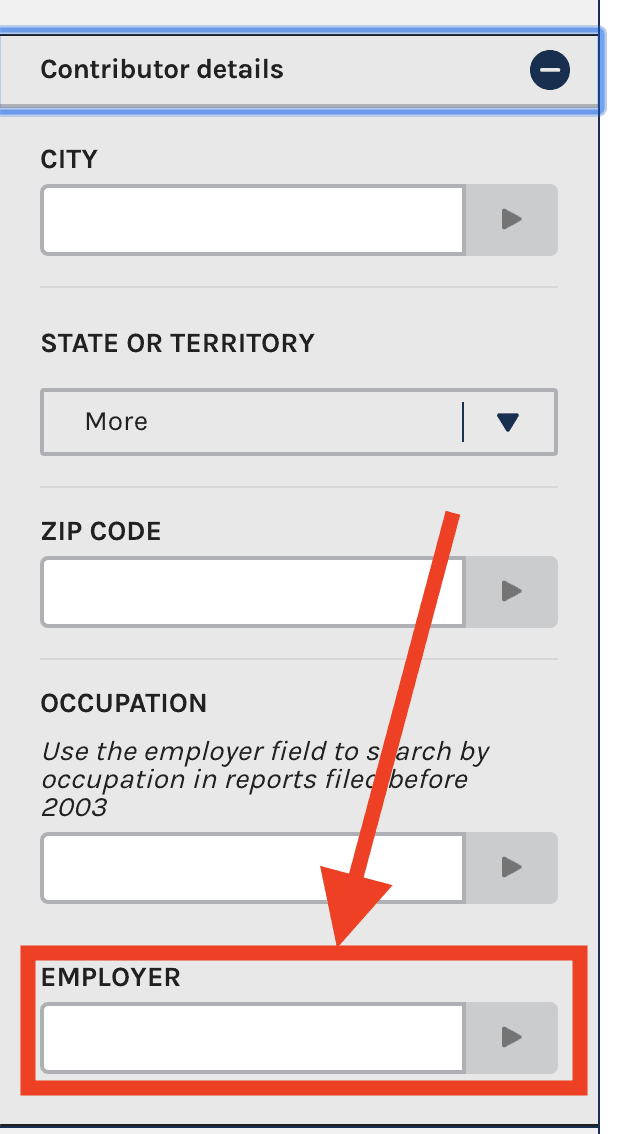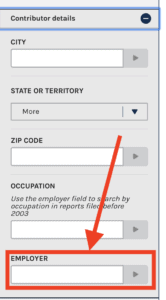 ask, "Where's the data?"
When starting a search, ask yourself what government agencies have dealings with the company that you are sourcing for candidates. Ask what government agencies might intersect with employees at your target companies. Next, check to see if the government data exists online. The FEC is a great place to start.
The nice thing about checking government records is that so many of them exist. Just think about the points of contact any individual has with the government: voter registration, driver's licenses, divorce court, and the IRS. Every time we collide with a government agency a record is created. Only this time, the government's famed bureaucratic red tape works in our favor.  The information can be used to gain a competitive advantage in finding passive candidates.
For more tips on candidate sourcing, check out our blog post How to Crush Candidate Sourcing.
THANKS FOR READING! IF YOU ENJOYED OUR POST, PLEASE SHOW THE LOVE AND SHARE IT WITH YOUR FRIENDS BY CLICKING THE BUTTONS BELOW. IT MAKES IT EASIER FOR OTHERS TO FIND THE POST.