Top 10 Recruitment Research Firms
Intellerati has assembled a list of the top recruitment research firms in the business. Though the firms on this list are technically our competitors, we are offering the list to pay it forward.
Intellerati is a recruitment research firm with a mission. We believe in the power of information to make executive search smarter. And we know that one of the first things executive search research buyers need is to know what their options are.
Research Firms List for Executive Search Support
Often hiring executives and heads of executive search could use help identifying and recruiting the executives they need. With unemployment at historic lows, executive search is harder than ever. Fortune 500 companies, venture capital firms, and private equity firms turn to strategic executive recruitment partners to ensure success. Many employers would rather not use a retained executive search firm for every executive opening that arises. That's where executive search research firms come in.
Buyers Ask About Candidate Sourcing Firms
Every year, we at Intellarati meet with more than 100 buyers of executive search research. Since we advocate for better candidate sourcing practices and make our feelings known (on this blog and elsewhere), we frequently get asked for our take on other executive recruitment research firms — our competitors in the NYC region. Naturally, corporate buyers and in-house recruiting teams want to know what are the best executive search research firms in the New York City Area.
Since Intellerati is an executive recruitment research firm itself, we do not have personal experience using the other research firms on our list. Consequently, we are not in a position to vouch for their services. However, their names have come up over the years. Clients ask us about them. And so we are sharing their names with you.
Unbundled Executive Search Services
Recruitment research firms offer unbundled executive search services so that executive search research buyers get the amount of support that they need. No more. No less. In fact, retained search firms often turn to recruitment research firms for help completing executive searches.
Recruitment Research Firms List
In alphabetical order, the top recruitment research firms are as follows:
---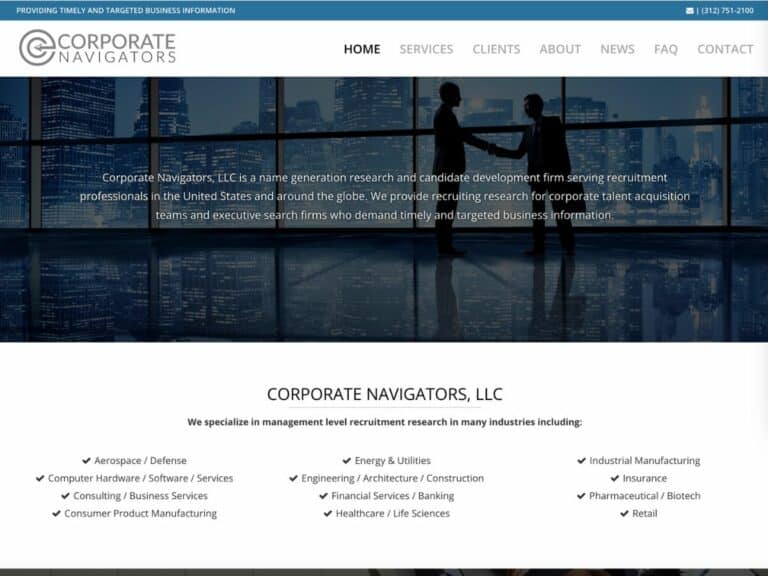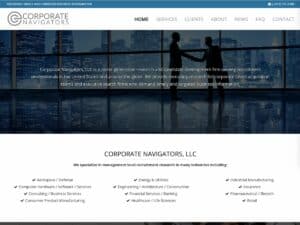 Corporate Navigators is a Chicago-based recruiting research firm that offers recruitment research in the form of candidate identification, candidate development, talent pipelines, and org chart development. While its prices are not listed on its website, the company charges a flat hourly rate for all of its services.
---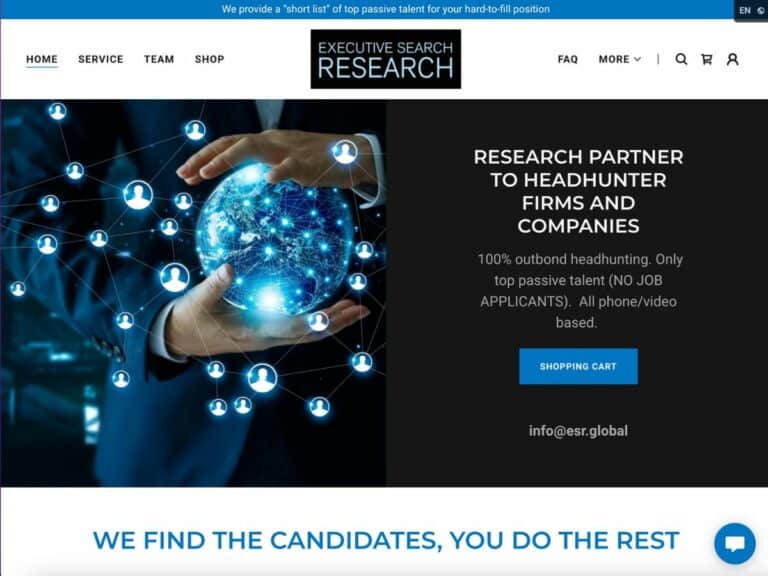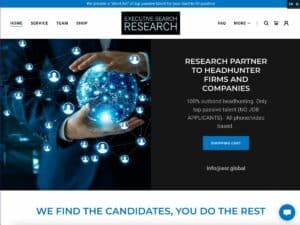 ESR is an executive search research firm with offices in Europe and the United States. The firm was founded by Christian Schoyen, who is the author of the book Secrets of Executive Search Experts. Without linking to the source, it says it is one of the top recruiting research firms in the world, which seems based on the list we provide as a courtesy to recruiting research buyers.
---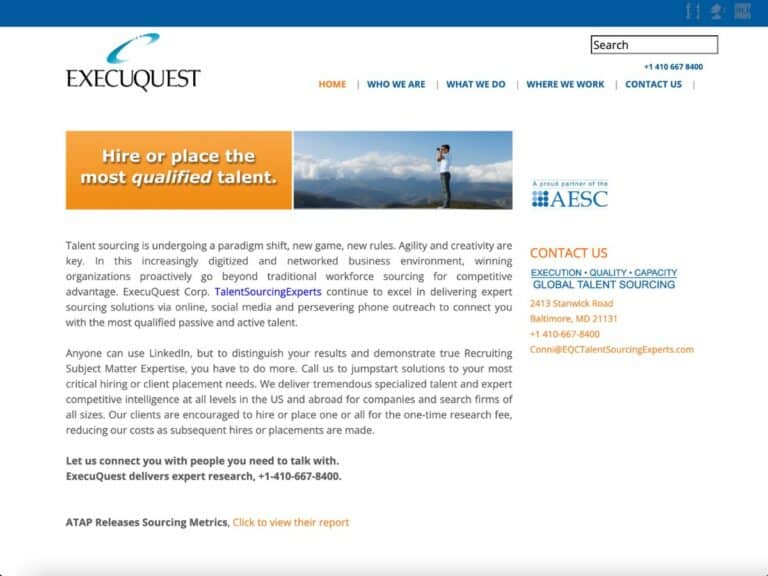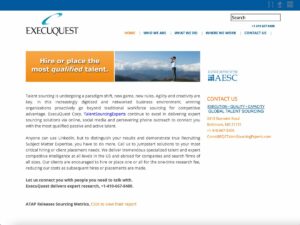 Execuquest is a boutique recruiting research firm based in Baltimore, Maryland. Helmed by Conni LaDouceur, the firm excels at original phone sourcing research at all levels, all positions, in the U.S. and abroad. As an hourly research provider, the firm is also well-versed in advanced online search, scraping techniques, and calls into companies directly.
---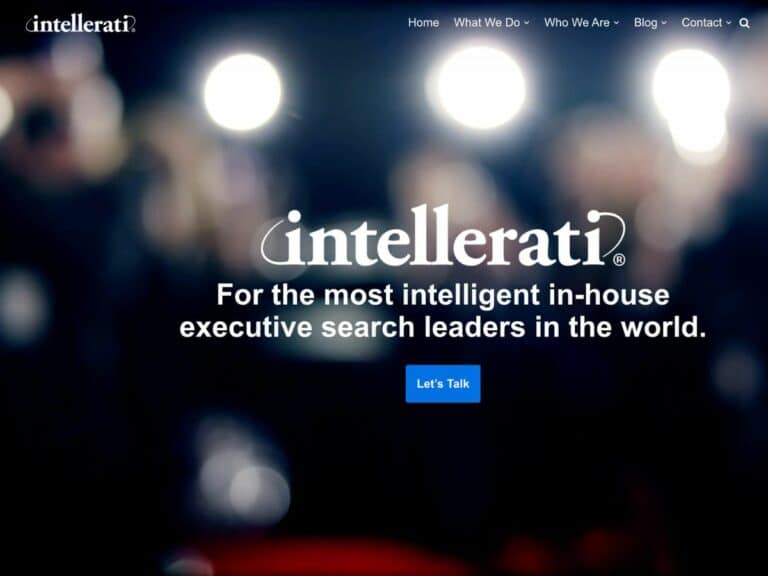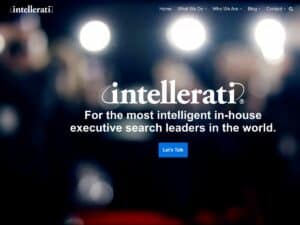 Intellerat (that's our firm) is a boutique recruiting research firm based in Westport, Connecticut in the greater New York City area. The executive search research firm conducts investigative executive search research that identifies passive candidates you never dreamed existed. It also qualifies candidates and offers talent mapping and org chart research of target companies.
---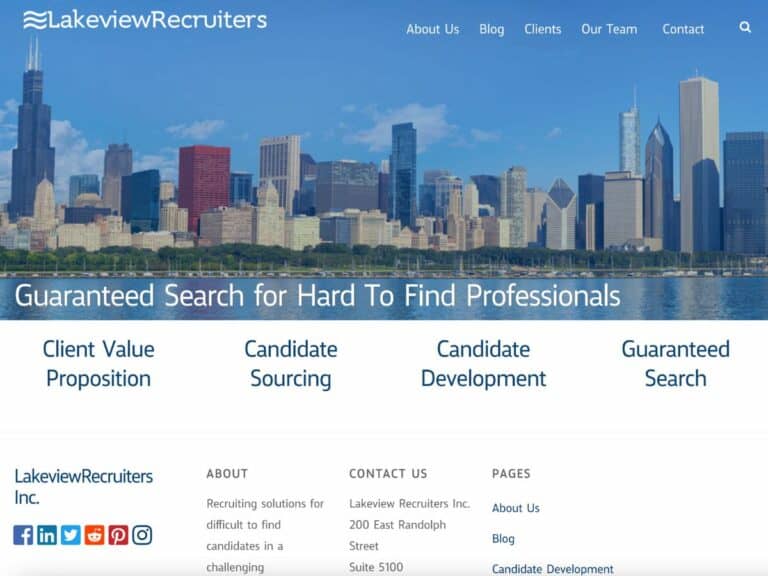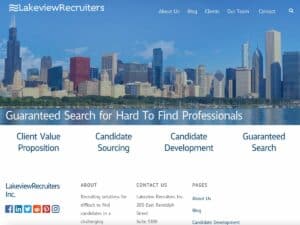 Lakeview Recruiting, formerly Lakeview Research, is based in Chicago, Illinois. It focuses on identifying, sourcing, and developing passive candidates for positions requiring unique job skills and experience. The recruitment research firm covers all industry sectors and functional areas, ranging from start-ups to Fortune 500 companies.
---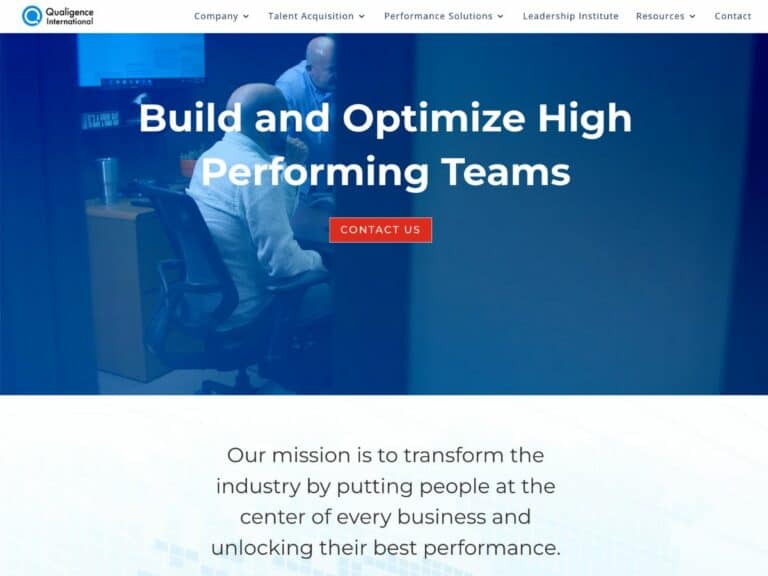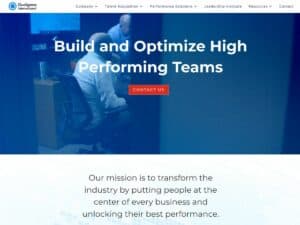 Qualigence is a recruiting research firm based in Livonia, Michigan, that offers name generation, contact information, reporting structures, recruiting services, and recruitment marketing. It also offers people analytics to "diagnose the root cause of business challenges like turnover, team conflict, and poor performance.
---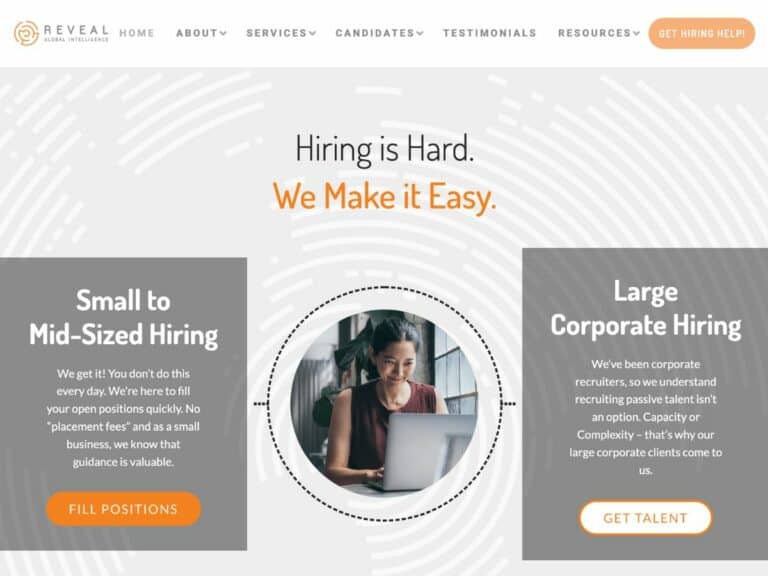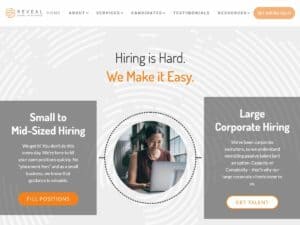 Reveal Global is a recruitment research firm based in Charlotte, North Carolina that offers Recruitment Research, Corporate Sourcing, Contract, Recruiting and Sourcing, Sales Intelligence, Consulting, Training, and Performance Coaching among its listed services. Additionally, Reveal Global provides its services for both small-to-midsize businesses and large corporations.
---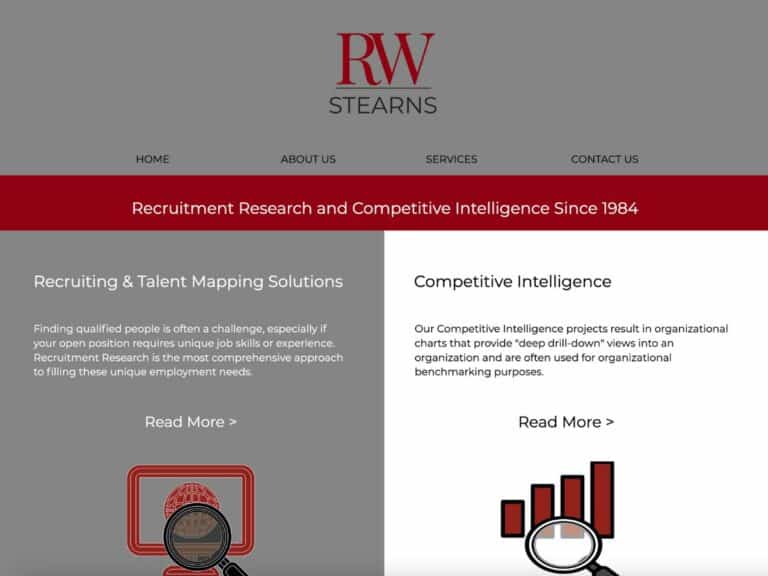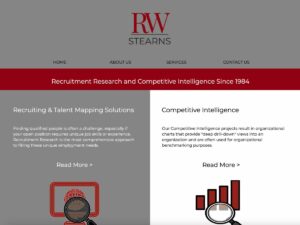 RW Stearns Inc. provides research-based recruiting solutions to companies ranging from emerging startups to those in the Fortune 1000. It lists org charts among its research offerings. The website says the company has completed more than 16,000 projects — domestic and international — spanning all industries, ranging from CEOs to individual contributors.
---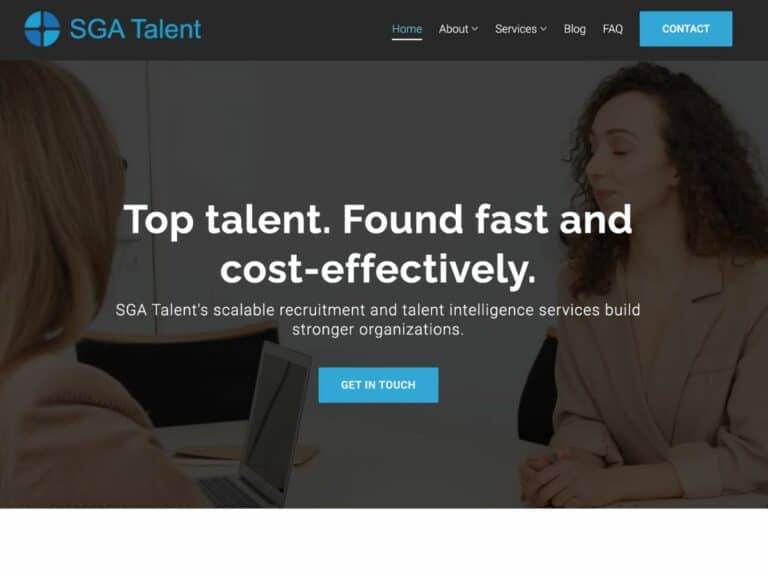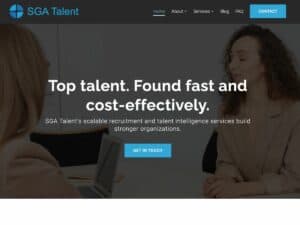 SGA Talent is a recruitment research firm based in Amsterdam, New York. The recruiting research firm creates and crafts talent pools for clients. Its services include Organization Chart and Talent Mapping, Profiling, Succession Planning, and Diversity. The data gathered also provides intelligence used to help clients make informed hiring decisions.
---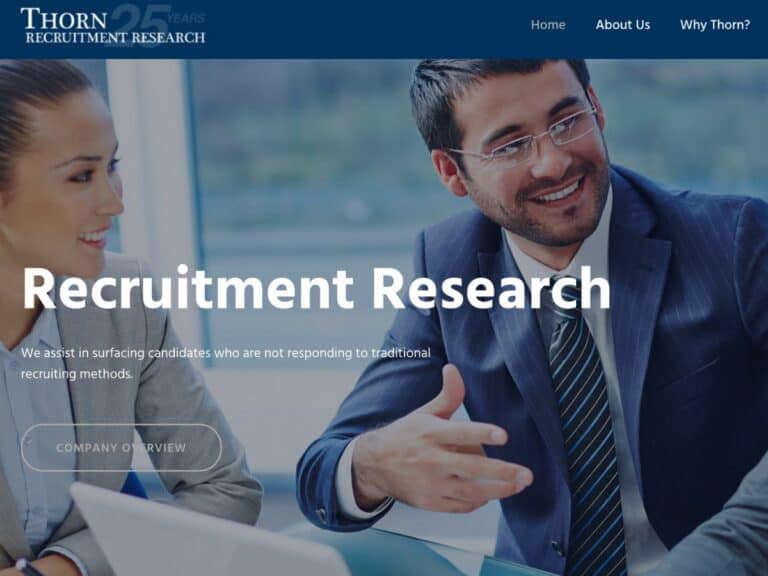 Thorn Network is a recruitment research firm based in Dallas, Texas. The company offers a "pursuable pool of outstanding candidates." The firm provides up-front strategy development, competitor targeting, candidate development, and screening. Thorn does not conduct face-to-face interviews, background checks, or employment negotiations.
---
The Candidate Sourcing Firms List is The First Step
We hope you enjoyed our Top 10 Recruitment Research Firms list. Wanting a list of research firms at your fingertips is a natural impulse for any head of in-house executive search teams. The main reason executive search buyers want to learn about recruiting research firms is that they're like search firms. If the candidate sourcing firms are good at what they do, their research expertise has the potential to make executive search smarter than traditional search firm engagements.
Retained Search Firm Fees Are High
First, retained executive search is expensive. You could buy a luxury car — or, in some cases, a house — with what you spend on retained search fees for senior-level executive search. Second, the failure rate of retained search is alarmingly high. On average, 40% of retained executive searches fail to complete. That percentage includes the leading traditional retained executive search firms.
It isn't always the search firm's fault. Sometimes companies change their minds and decide not to back-fill a role. Sometimes hiring executives keep candidates waiting too long. Sometimes, companies fail to extend a competitive offer. Yet even when you back out those numbers, far too many executive searches hit the wall.
Contingency Search Firms Are Not Free
If you use contingency firms, sure, they're "free" if they don't place a candidate. But there remains a significant risk. The cost of positions that languish unfilled — particularly at the senior executive level. A contingency search firm that fails to fill an opening or a contingency search firm search that delivers a bad hire can cost your company millions in lost sales, lost time to market, and lost morale.
The Next Step? Talking.
Asking what are the best recruiting research firms is a good place to start. Candidate sourcing is an alternative to traditional search firms that, when done the right way, can deliver better results. The next step is asking questions you might have.
Got questions? Let's talk.
If you'd like to explore possible ways to work together, let's talk. We understand that no recruitment research firm is the right firm for every engagement every time. But, regardless, we make it a practice to listen and to try to help.