Skip Using LinkedIn to Recruit C-Level Executives
Is LinkedIn Recruiter a Senior Executive Recruiter?
LinkedIn is a tool — a useful one — that can be deployed to help recruit candidates for any company. For example, searching member profiles to find passive candidates for specific vice president openings is a common LinkedIn recruitment technique. Relevant work experience, skill endorsements, and recommendations can help candidate sourcers identify LinkedIn members who might be qualified. Yet the information is not reliable until it is verified. However, rarely do companies depend on LinkedIn recruitment to hire C-level executives. Most experts in senior-level search do not recommend depending on LinkedIn Recruiter for important senior-level leadership hires.
LinkedIn Will Always Be a Social Network
Undoubtedly, LinkedIn helps fill a good many openings across a wide range of functions. Yet, LinkedIn's raison d'etre is social networking, not recruiting. In fact, it tacked on recruiting products to monetize the social network. So structurally and architecturally, it must remain a social network with crowd-sourced, unreliable, and unverified information. In other words, LinkedIn's reason for existing is also a limitation. Because it was never made for talent acquisition, candidate sourcers and recruiters must work harder to find the candidates they need.
It is not a Senior Executive Headhunter
In other words, LinkedIn Recruiter is not a recruiter and never can be. Despite what its name suggests, LinkedIn Recruiter cannot qualify senior leaders. It cannot determine whether work experience meets the requirements of the role. In fact, the social network treats skill endorsements as confirmation of one's expertise. However, strangers often given endorsements with other members to curry favor. Clearly, the "recruiter" LinkedIn serves up to paying corporations and the work done by humans to fill a senior leadership position are entirely different things. The former cannot yet replace the latter
So Someone Must Do the Executive Recruiting
Executive recruiters assess the executives they recruit. Headhunters to determine whether candidates meet the job requirements and are qualified. But that's just the baseline in executive search. For a passive candidate to make it on the shortlist, the leader must be also be a top performer. Consequently, executive recruiters elicit referrals and back-channel calibrations to identify the best of the best. They do not rely on LinkedIn skill endorsements and recommendations. Try as they might, companies are finding they cannot replace executive recruiters with LinkedIn. You still need someone to find and recruit the executive. As important, you must determine whether the education, work experience, skill endorsements, and recommendations qualify the senior leader.
What Senior Executive Search Requires
What LinkedIn Recruitment Doesn't Do
Match LinkedIn profiles to a specific role.
Assess skill endorsements: many are given by perfect strangers
Obtain contact information and current employment information. (LinkedIn profiles often are outdated.)
Request an updated resume. (LinkedIn profiles often lack detail.)
Contact, qualify, and screen candidates. Assessing viability.
Determine whether candidate preferences and motivations are aligned with the role.
Verify the prospect is able to relocate if required.
Determine whether the desired compensation is in range.
Assess the cultural fit to determine whether the transplant will take.
Calibrate executives through back-channel pre-references.
Schedule client interviews, and debriefing afterward
Verify credentials and employment. Check references.
Position and negotiate offers. Close the candidate.
Hundreds of Millions of Passive Candidates
As the leading channel for business networking, LinkedIn has become a vast repository of passive candidate information. It boasts a worldwide membership of more than 850 million members users.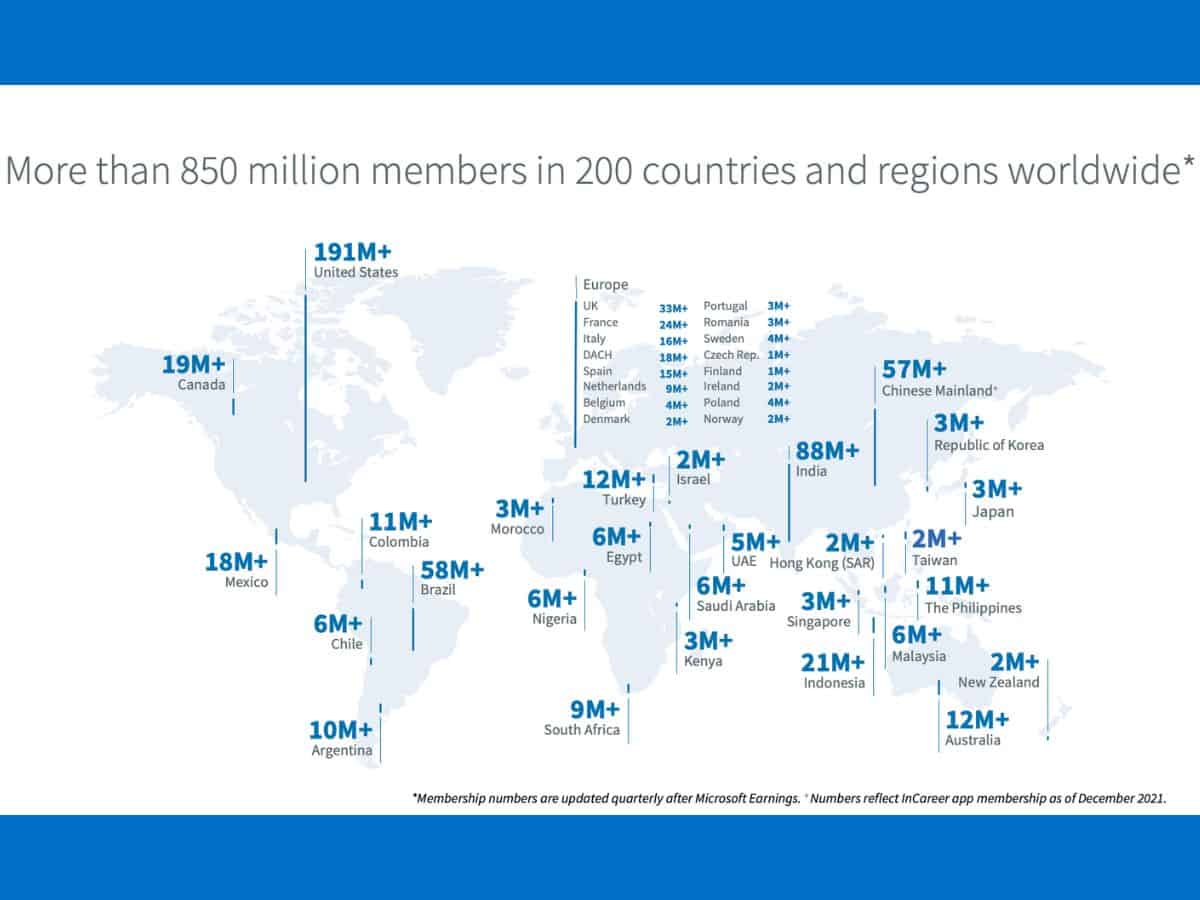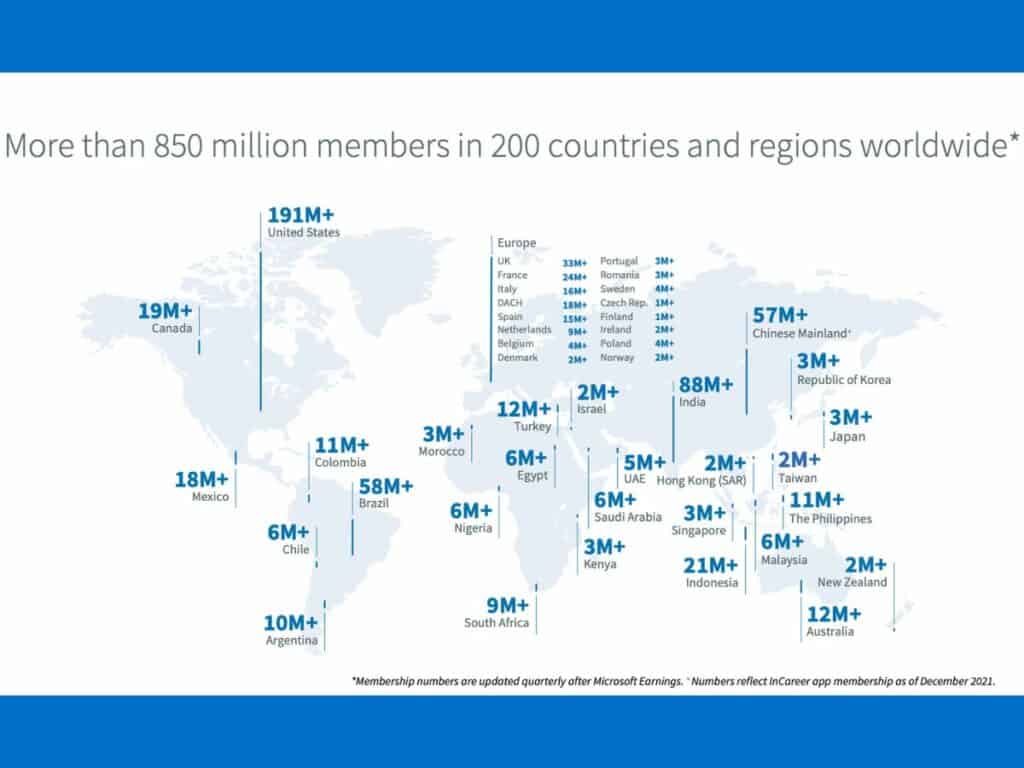 LinkedIn Member Total is Misleading
Yet while the total number of its users is impressive, the quality of its data suggests LinkedIn has a ways to go before achieving its stated goal as "the Professional Profile of Record". At last check, LinkedIn does not disclose metadata to reveal a member's last login or last update. Consequently, one has no way of knowing how stale the LinkedIn profile data is or whether a profile has been abandoned.
In its annual report, LinkedIn acknowledges:
LinkedIn does not disclose what those LinkedIn member numbers are. That simple statement more than halves the purported total number of active LinkedIn members in half. 850 million LinkedIn users to less than 425 million. In addition, LinkedIn does not appear to remove abandoned LinkedIn member profiles, eliminate duplicates, or delete fake profiles.
The Center for Pew Research reported in 2021 that 28% of U.S. adults say they ever use LinkedIn. Presumably, some of the 72% do not. While some of those people may have retired, attend college, or otherwise have no reason to engage in business networking, it suggests a massive number of Americans simply do not hang out there.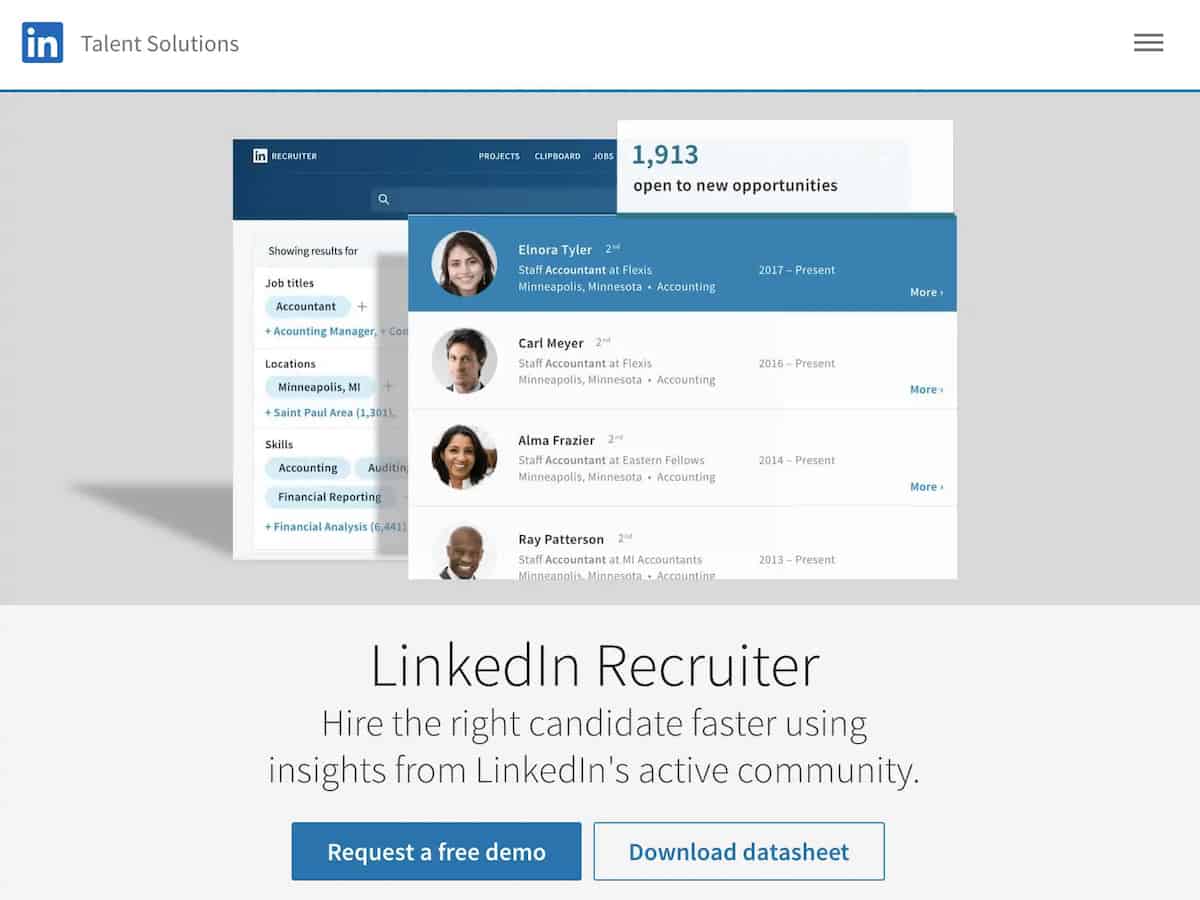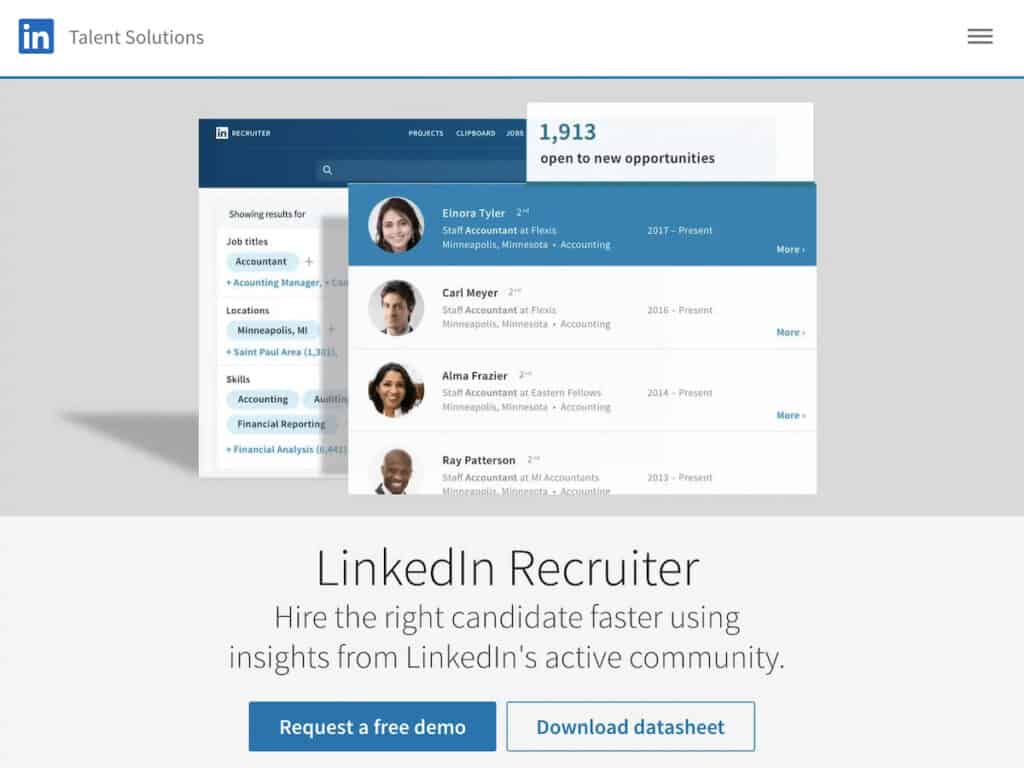 Many Candidates Don't Gather on LinkedIn
In other words, LinkedIn Recruiter is a valuable research resource, but clearly, there are a good many prospective candidates who do not use LinkedIn. Consequently, LinkedIn recruitment can help identify some, but not all, potential candidates. It can help you message them privately. It can help you market jobs to them if mass-email blasts are your thing. But LinkedIn does not a candidate make. Employers must do a lot of work to do to transform a LinkedIn profile into a hire. As awesome as LinkedIn is, it is not a panacea.
Consider LinkedIn Recruitment + Recruiting Research
Of course, that's where strategic recruitment partners come in. Intellerati partners with leading Fortune 500 companies and venture capital-backed startups to recruit senior executives. I would estimate a good 95% of our clients have added LinkedIn to their recruiting toolkit. But it hasn't been enough. They use LinkedIn and they use us because they still need help recruiting.
Who Does Senior Executive Recruiting?
In most cases, LinkedIn recruitment alone won't get you to where you need to be to make a hire. So when you invest in LinkedIn Recruiter, you still need to figure out who will do the work. Who will do the candidate identification and profiling to determine which of LinkedIn's 850 million members are potential candidates? Who will do the outreach to those candidates to engage, screen, qualify, interview, and ultimately recruit them?
Retained Executive Search Partners Attract Top Leaders
For senior-level executives, retained executive recruiters match force with the gravitas of those leaders. To be taken seriously, executive search partners must be knowledgeable enough and powerful enough to move comfortably in that world. The executive recruiter must be adept at engaging the interest of highly sought-after executives, gaining the trust and respect of the executive — deftly moving that high-profile executive through the executive search process.
Companies Turn to Retained Search for CXOs, EVPs, and SVPs
Some C-Level hires are transacted on LinkedIn, however, it is not the norm. Most companies prefer turning to retained search firms to fill their most critical senior leadership openings. Many senior executive searches are confidential. Often, it is because there is currently an incumbent in the role who the employer wants to replace. Senior executive job postings get inundated with applicants. At the C-level, executive search is focused on finding a leader who is not only qualified but also a top performer.
But How Do You Fill Vice President Openings?
At the Vice President level, deciding whether to use a retained firm is a tough call. The role has to be important enough to warrant the investment of retained executive search. Traditional retained search firms often refuse to work on the searches if the total cash compensation is less than $300 thousand. If you decide to use your own internal executive recruiters to fill a vice president-level role, many in-house recruiting teams are swamped with other responsibilities. They don't have time to focus on the front end of the recruiting process to identify candidates with the required work experience and skills qualify. They need help winnowing LinkedIn's 850 million+ profiles down to a handful of contenders.
Consider Executive Search Research Support
Our recruiting research practice Intellerati helps companies recruit executives by identifying and qualifying candidates. We're not the only ones. Other recruiting research firms include SGA Talent, Qualigence, Lordstone, and R.W. Stearns. (For a more comprehensive is of executive search research firms, check out Top 10 Recruitment Research Firms.)

The advantage of executive search research firms is they do the work of recruiting and also give you the research — something traditional retained search firms do not do. The candidate research is yours to keep. If fact, you can use the research to make additional hires at no additional cost.
LinkedIn Recruiter is Not Human
With so many million prospective candidate profiles available on LinkedIn, it is easy to think "Jackpot!". Yet with LinkedIn, the house always wins. As powerful and expensive as it is, there remains a gap between all those candidate profiles and that important hire you need. You need a human to talk to potential candidates. Someone must qualify the C-level executive to determine whether the passive candidate has the necessary work experience and meets the requirements of the job.
Skill Endorsements and Recommendations Are Not Substitutes for References
Someone must determine if the skill endorsements and recommendations translate to strong references. All the LinkedIn skill endorsements and recommendations in the world do not a hire make. A human must transform that LinkedIn profile into a hire who shows up on their start date. For a good many technology companies, we are that human.
The Fortune 100 and Startups Turn to The Good Search
Fortune 100 companies and top-tier VC-backed startups turn to The Good Search to fill important senior executive openings. That's how we become one of the leading boutique search firms in technology. While we use LinkedIn to source candidates, it is by no means our only resource. Our investigative approach reaches far beyond traditional recruiting databases and social networks. We elicit referrals from highly placed sources in the industry. That is how we discover dream candidates others miss, outperforming traditional retained search firms. So while we use LinkedIn, our work does not stop there. In fact, it is just the beginning.
We invite you to check out our most popular blog post UPDATED! What Your LinkedIn Member Number Means (and How to Find It). We welcome your comments. Perhaps you can help us solve the Mystery of the LinkedIn Member Number uncovered by one of the commenters.
Thanks for reading! Of course, we welcome your comments. If you enjoyed our post, please show the love and share it with your friends by clicking the buttons below. It makes it easier for others to find the post.